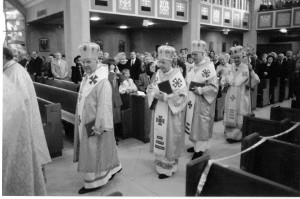 Bishops Michael Wiwchar, Michael Kuchmiak, Michael Hrynchyshyn and Metropolitan Stefan Sulyk at the Redemptorist 50th jubliee celebrationy
In 1985 St. John's had the honor of hosting Mother Theresa at the ordination at St. John's of Rev. Brian Kolodiejchuk, who was the first priest to be ordained for the Missions of Charity, the congregation founded by Mother Theresa.
1988 was the year of the millennium of Christianity in Ukraine and St. John's parish besides taking part in various celebrations once again commissioned Sviatoslav Hordynsky, this time to prepare a mosaic depicting the baptism of Rus-Ukraine in 988, which was installed over the main entrance to the church.
August 24, 1991 Ukraine declared its sovereignty. During Father Michael Wiwchar's pastorship St. John's experienced an influx of new immigrants from Ukraine. The parish sponsored a number of families from Ukraine and embraced many others with moral support. In 1992 Father Wiwchar was instrumental in attracting a highly trained young man, Mychajlo Stashshyshyn, from Lviv to fill the position of cantor that was vacated by Michael Dobosh in 1988. The number of immigrants from Ukraine continued to grow and a special organization "The Fourth Wave" was organized as a haven and network for them.
In 1996 the parish gathered to honor the Redemptorist Fathers for their 50 years of service to St. John's.